Camp Hill High School Class of 1977
---
1977 Trivia
---


Twenty-five years is a long time -- and yet the years seem to have flown by. School, jobs, and families have kept us busy. What has happened on the global, national and local scenes? What where your favorite movies, songs and television shows? Take a virtual trip twenty years into the past.


What was going on back then? Some links to the past:
Saturday Night Live was at its best.
Elvis Presley died.
A Long Time Ago . . . Star Wars
The formation of Microsoft.
oh, yeah, disco, Saturday Night Fever, the Bee Gees, Donna Summers...need I go on?
Wonder what else was going on in the '70s? For more blasts from the past, check out Dee T's '70s Page



---


At the Movies: Oscar Winners for 1977
Best Picture - Annie Hall
Other Nominees: The Goodbye Girl, Julia, Star Wars, The Turning Point
(Rocky won in 1976 and The Deer Hunter in 1978)
Best Actor - Richard Dreyfuss for The Goodbye Girl
Other Nominees: Woody Allen, Richard Burton, Marcello Mastroianni and John Travolta
(In 1976 it was Robert De Niro for Network and in 1978 Jon Voight for Coming Home)
Best Actress - Diane Keaton for Annie Hall
Other Nominees: Anne Bancroft, Jane Fonda, Shirley MacLaine and Marsha Mason
(in 1976 it was Faye Dunaway for Network and in 1978 Jane Fonda for Coming Home)


for more details or lists on Oscar winners and nominees, go to The Internet Movie Database
Or try the Greatest Films of the 1970s for a listing of all the movies of that decade (and other decades as well).


---


On the Radio: Do you remember . . .
Foreplay/Long Time and Peace Of Mind by Boston,

Changes In Latitudes by Jimmy Buffett,

Just A Song Before I Go by Crosby, Stills & Nash,

Rich Girl by Hall & Oates,

Barracuda by Heart,

Scenes From An Italian Restaurant by Billy Joel



At the Grammys, the winning album was Fleetwood Mac's Rumours, the winning record the Eagles' Hotel California.


---

Literary Events:
John Cheever's Falconer
Colleen McCullough's The Thorn Birds
J.R.R. Tolkien's The Silmarillion


---
In the News:
January
1: U.S.C. wins over Michigan 14-6 in the Pasadena Rose Bowl.
Rev. Jacqueline Means becomes the first female Episcopal priest in Indianapolis.
6: The Associated Press votes Nadia Comaneci and Bruce Jenner athletes of the year.
20: Jimmy Carter and Walter Mondale are sworn in as President and Vice President.
21: President Carter urges 65 degrees as maximum heat in homes to ease the energy crisis.
Carter pardons draft resisters.
22: CB radios cause a national fuss. Congress and manufacturers are at odds as CB transmissions interfere with radio and TV lines.

February
1: The final episode of Roots airs on ABC. Alex Haley's miniseries reached 80 million viewers.
6: Queen Elizabeth marks Silver Jubilee.
7: Amnesty Intl. charges Idi Amin with execution of thousands in Uganda.
Hustler editor Larry Flynt given seven years for engaging in organized crime.
18: It is reported that the CIA made secret payment to Jordan's King Hussein for 20 years.
The space shuttle made the first "piggy-back" ride atop a Boeing 747.
27:Eric Heiden becomes the first American to win three world speed skating titles in a year.

March
2:Bette Davis is the first woman to receive the Life Achievement Award of American Film Institute.
6: Israeli Premier Yitzhak Rabin arrives in the U.S. for talks with Carter.
7:Ali Bhutto's party wins legislative elections in Pakistan.
12:Roman Polanski is arrested in L.A. for rape.
Sadat says Egypt must have all Israeli-occupied Arab territory back.
24: A California State Superior Judge ordered five adults, aged 21 to 26, placed in their parent's custody to be "deprogrammed" from the Unification Church of the Rev. Sun Myung Moon.

April
3: Sadat arrives in Washington, D.C. to talk with Carter.
18: Alex Haley gets a special Pulitzer for Roots.
21: The musical Annie opens in New York.
23:A blowout on a well in the North Sea sends a 20 sq.mile oil slick drifting toward Norway.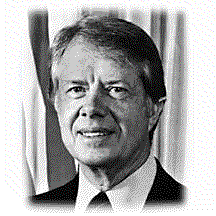 May
2: First protest staged at a nuclear plant at Seabrook, New Hampshire.
4: Nixon says he "let the American people down" by lying in Watergate.
9: James Jones, author of From Here to Eternity, died.
10: Actress Joan Crawford died.
14: Montreal beats the Boston Bruins for hockey's Stanley Cup.
Philip K. Wrigley, chewing gum Chairman, dies at age 82.
16:Ali retains the heavyweight title with an unanimous decision over Alfredo Evangelista.
18: Carter proposed stringent conservation of fuels, higher energy costs and penalties for waste. "Ours is the most wasteful nation on earth. ... our proposal. It will demand that we make sacrifices and changes in our lives."
20: The Orient Express takes its last trip.
22: Janet Guthrie becomes the first woman to qualify for the Indy 500. A.J. Foyt wins the race for the fourth time.

June
4: Anne Morrow Lindbergh arrived in Paris for the 50th anniversary of her husband's flight.
11: Seattle Slew with jockey J. Cruguet won the Triple Crown.
15: Spain holds its first free election in 41 years.
16:Brezhnev is named the first Soviet president.
Wernher von Braun, the German-born rocket scientist, died at age 65.
20: The Trans-Alaskan oil pipeline finally opened.
22: Former Attorney General John Mitchell began serving his 30 month sentence for charges stemming the Watergate scandal.

July
2: At Wimbledon: Bjorn Borg over Jimmy Conners, Virginia Wade over Betty Stove.
Novelist Vladimir Nabokov died.
8: Artist Marc Chagall celebrated his 90th birthday.
11: Carter gives Coretta Scott King the Medal of Freedom in honor of Martin Luther King.
12: Police remove 194 in sit-in to bar gym on site of Kent State killings.
14: Massive black-out in New York. 3300 are arrested for looting.
31: Son of Sam killer wounds 12th and 13th victims.

August
4: German Marxist philospher Ernest Bloch died.
10: David Berkowitz held in Son of Sam murders.
12: Space Shuttle Enterprise passed first flight test in the Mojave Desert.
16: Elvis Presley died at age 42.
19: Julius "Groucho" Marx died at age 77.
20: First Voyager 2 launched for Jupiter, Saturn, and beyond.
25: Reagan urged the Senate to reject Panama Canal treaties.
The VW Bug is was phased out in favor of the Rabbit.
September
4: Four cases of the mysterious Legionnaires disease were confirmed.
7 President Carter & General Herrera sign treaties that transfer the control of the Panama Canal to Panama in the year 1999.
8: Comic actor Zero Mostel died at age 62.
13:Conductor Leopold Stokowski died at age 95.
15: The U.S. House of Representatives approved hikes in minimum wage.
18:Moshe Dayan arrived in Washington for a new round of talks on the Mideast.
19:Jacqueline Kennedya Onassis negotiated a settlement with her late husband's daughter Christina.
21:Carter accepted resignation of Bert Lance (for financial illegalities).

October
3: Indira Gandhi was arrested on charges of official corruption.
4: Sirica reduced the sentences of Mitchell, Haldeman and Ehrlichman.
14: Bing Crosby collapsed on a golf course and died a short time later at age 73.
18: Yankees beat the Dodgers 8-4 in the sixth game to take the World Series.
21: Son of Sam killer David Berkowitz was found fit for trial.
23: Earlist form of life - 3.4 billion year old one-celled fossils - was found in rocks in Africa.
26: Bethlehem Steel reported a $477 million loss in third quarter.
27: James M. Cain, author of The Postman Always Rings Twice died at age 85.
November
1: Carter signed minimum wage increase from $2.30 to $3.35 by 1981.
5: Band Leader Guy Lombardo died at age 75.
8: Edward Koch was elected Mayor of New York.
9: Israeli Jets hit Lebanon in bombing raids, killing at least 60 civilians.
14: Sadat announced his readiness to address Israeli Knesset.
15: Begin asked Sadat to speak at Knesset.
20: Sadat offered Israel "peace with justice," called for the return of occupied lands.
25: Former Philippine Senator Benigno Aquino was sentenced to death.
25: Comic genius Charlie Chaplin died 88.

December
5: Hard-line Arab nations failed to unite against Sadat's peace moves.
16: Begin agrees to give Sinai back to Egypt.
26: Film director Howard Hawks died at age 81.




---
CHHS '77 | The Reunion | Class Trivia | 1977 Trivia | Class Email
Class Events | Class Photos | Class Questionnaire | Class Guestbook | Area Information | PA Links
---